'Matchlessly witty. . . one of the country's funniest writers.'
-
The GuardianPublished by Ebury Press

In bookshops now
Tick Bite Fever
Tales from a chaotic African childhood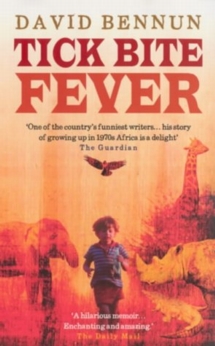 Click
to see the above image bigger and sharper
Read what the UK press has said so far
here
. Not to blow my own trumpet - they've done that for me, bless 'em - but this book has had nothing but good reviews.
Tick Bite Fever
, David Bennun's memoir of growing up in Africa, is published by Ebury Press, a division of Random House. To quote from the introduction:
The book isn't really about me. It is about Africa, about my family, about the mishaps and calamities and freakish occurrences in which I was so often an unwitting pivot or accidental catalyst. It is about a life - my own - where I have figured largely as a baffled spectator. Others meet danger with cunning and fortitude; I overcame it through a mixture of blind luck and not falling over too often. My childhood passed in a haze of delirium familiar to me from several intriguing diseases, including the one which provides the book's title.
Tick Bite Fever
is part anecdote, part travelogue, part survival manual and wholly unlikely. But it's all true, to the best of the author's recollection. It features:
Mugged by monkeys: Why me? Why monkeys?
The mysteries of the Venison Suitcase
The art of Being Chased by Elephants
Warthog "erotica" (even warthogs don't like it)
A marvellous supporting cast - Kenya Cowboys,
the Christmas Chicken Man, Mad Titus,
Achilles the world's fighten'est dog, and many more
improbable but genuine oddballs
Several hand-carved jokes, many of them not publicly exhibited
since the reign of Queen Victoria
For press enquiries, please contact
Charlotte Dollin
at the Ebury publicity office on 020 7840 8730 (+44 20 7840 8730 outside the UK), or email David directly
here
To order a copy from Amazon.co.uk, please
click here
.